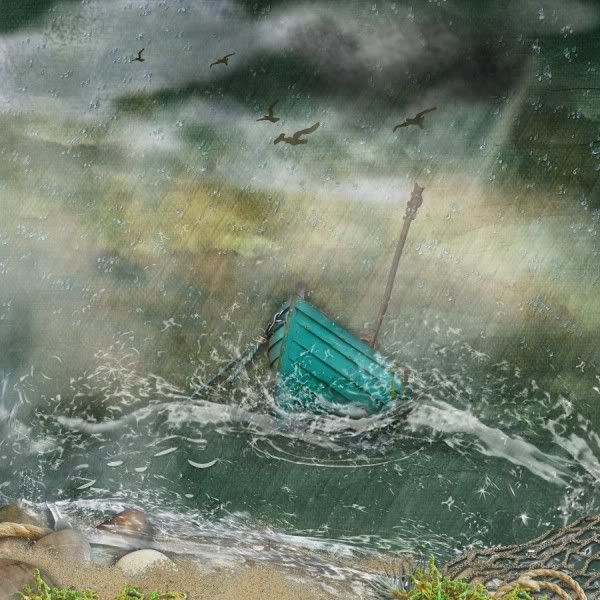 I have been much admiring the layouts (feel that that word isn't enough - they're art) of
Black Dog
. She is seriously creative and uses so many elements of vast numbers of kits in each of her works. I generally keep to one kit when I make a page - mainly because most of my stuff is CT stuff and is meant to highlight each kit. So for a change I wanted to make a layout (purely inspired by Black Dog) using lots of different kits. I found stuff on my hard drive I didn't even remember I had. The boat I extracted from a photo I took on Orkney.
Credits (big list here!)...
Background from Winter's Kiss by Kitty Designs
Background (blended) Weathered Backgrounds 2 by Paint the Moon
Water and rain from Need Some Water by Jofia Defoe
Birds and mast from Painted With The Autumn Sun by Jofia Defoe
Rope (on boat) from Urban Medley by Madame Mim
Fog - cloud from Diamond Rain by Jofia Defoe
Cloud from The Invisible World by Newlife Design
Sand, Net, Rocks and Moss from Pacific Grove by Paint The Moon
Darkest Clouds from Weather Station by Dawn Inskip
Bottle and Hook (on boat) from Bottle It Up by Maya Design
Ray of light from Enchanted Forest by Milla and Madame Mim.